Easy Baking with Jayla: Pumpkin Chocolate Chip Muffins
Pumpkin Chocolate Chip Muffins
Are you going through it during quarantine and missing all of your favorite things?? I know I have been. My column is going to be all about easy and fun recipes you can make at home.
If you had Mr. Peters your sophomore year, you know he is all about food and recipes. So of course he was my first contact when I chose to do this story. He explained that his sophomores made a cookbook during NTI in the spring of 2020.
I am going to pick some of these fun recipes to share with you. Up first is Pumpkin Chocolate Chip Muffins from Junior Lucas Seraphine. Lucas' family started making these together after his family got the recipe from a family friend.
So lets try this out… 
You first need three simple ingredients: a box of spice cake mix, can of 100% pure pumpkin, and chocolate chips.
Step 1: Mix both the pumpkin and cake mix together until batter forms.
Step 2: Add ½ cup of chocolate chips into the batter until they are evenly mixed.
Step 3: Fill the muffin tins with up to ¾ or for a smaller pan ½ .
Step 4: Bake muffins at 350 degrees for approx. 15-20 minutes.
Step 5: Stick a toothpick into the center at 15 minutes to see if they are done.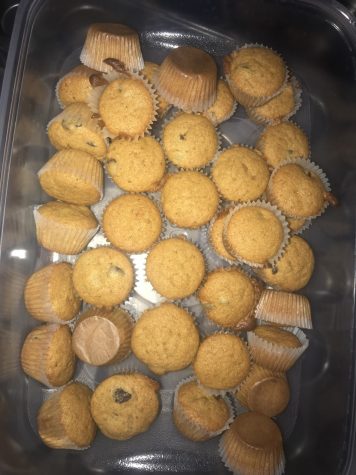 They are so good!!