5 Creative and Easy Fall Recipes
This year has been hard enough. Here are some easy recipes for fall that will spice up your table.
1. Fried mashed potato balls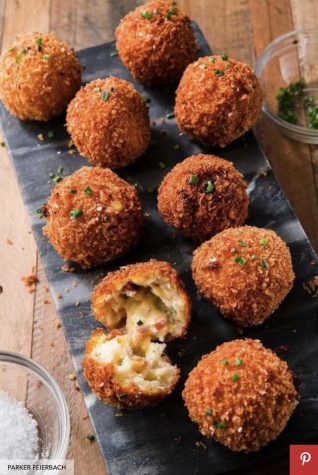 This is something different and fun for the family, especially for the picky eaters since it doesn't have anything crazy in it. Mashed potatoes are always a must have at my house and I cannot wait to make these this year! 
Recipe: combine 3c. Of leftover mashed potatoes, three slices of cooked/crumbled bacon, ⅔ c. of shredded cheddar cheese, 2 tbsp. Of thinly sliced chives, ½ tsp. of garlic powder, and a sprinkle of salt/pepper. Place 2 beaten eggs in a bowl and 11/3 c. of panko breadcrumbs into a separate bowl. After that, scoop a piece of mashed potatoes into your hand and roll it into a ball. Once they are rolled into  a ball, dip them in the eggs, then in the panko. Repeat this until all the mashed potatoes are rolled up. To fry them, heat oil in an iron skillet until the thermometer reads 375. It will take about 2-3 minutes to get golden brown, which is when they are considered done. Take them out of the skillet, dry them on a paper towel, and enjoy!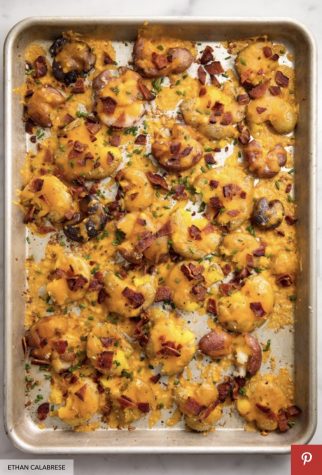 2. Loaded smashed potatoes
This is another easy recipe for the picky eaters. It has the normal things that baked potatoes would have on it, but it is more fun because you get to smash it!
Recipe: Place a pound of baby Potatoes in a large pot with water and a pinch of salt. Boil until tender, which should take about 15 minutes. Once the potatoes are tender, put them on a baking sheet and pour over a mixture of ¼ c. of butter and 3 cloves of minced garlic. Sprinkle it with salt and pepper. After they are laid out and seasoned, mash the potatoes with a big spoon or the bottom of a glass jar. After that, bake at 400 for 20-25 mins. After they are baked pull them out and add cheddar cheese. Put it back in the oven for 3-4 minutes until the cheese melts on the potatoes. Once taken out of the oven, add any extra toppings you prefer such as crumbled bacon, green onions, and sour cream.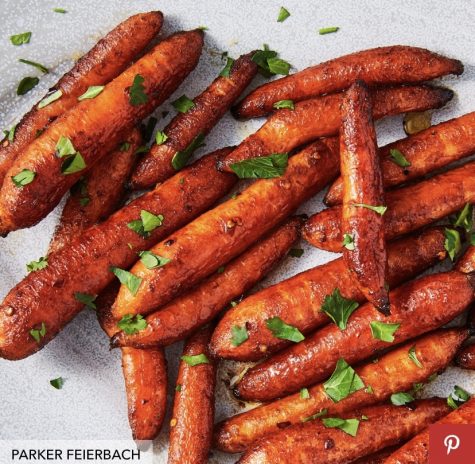 3. Balsamic Roasted Baby Carrots 
This recipe is vegan and delicious. It is a very healthy alternative to other sides. 
Recipe: In a bowl combine ¼ c. of balsamic vinegar, ¼ c. of extra virgin olive oil, 2 tbsp. Of maple syrup, ½ tsp. Of crushed red pepper flakes. Add carrots to the bowl and toss them so they are covered in the mixture. Once they are coated, place them spread out on a baking sheet and roast them in the oven at 400 for 30 minutes. They should be fork-tender when they are done roasting. To finish off, add a dash of salt and garnish with parsley for decoration.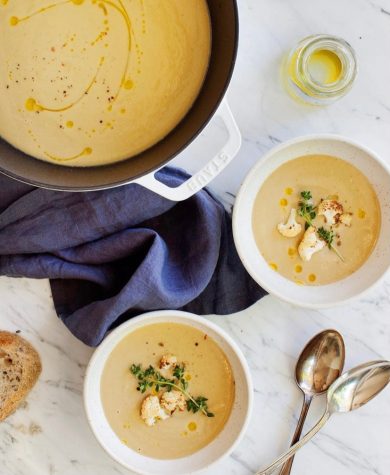 4. Cauliflower Soup
This recipe is something I had never heard of until I did some research, but apparently it is very popular. It seems yummy and would definitely fill you up fast. 
Recipe: Start this soup by roasting a chopped up head of a cauliflower, shallots, and garlic at 425 degrees. Once the cauliflower is tender, (which could take 45 minutes to an hour) pull it out of the oven, put it in a pot and blend the vegetables with some miso, Dijon Mustard, lemon juice and thyme. If the soup is too thick, vegetable broth can be added. Once the soup is finished, it can be eaten by itself or with bread. Some people even use it as a dressing.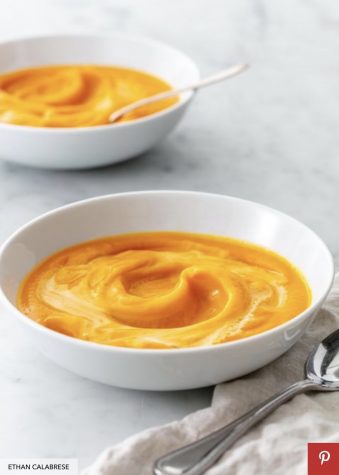 5. Pumpkin Soup 
This recipe is simple and different. Many people have pumpkin pie on thanksgiving but never think about the other foods pumpkin can be used for. 
Recipe: In a soup pot, heat 1 tbsp. Of extra virgin olive on medium heat. Add onion and garlic to cook until they are golden. While this is cooking, scrap out the seeds of a pumpkin and cut them into chunks. Add the pumpkin chunks and some broth to a pot and bring it to a boil, uncovered. Season with salt and pepper. Once it is brought to a boil, reduce the heat and let it simmer until the pumpkin is tender. This should take 30-45 minutes. Once it is simmered, remove the pot from the burner and use an immersion blender to blend the mixture until it is the texture you like. Stir in cream and season with salt and pepper.
Recipes found on:
www.loveandlemons.com
www.delish.com