Preparing for the ACT
Typically, the American College Test, or more commonly known as the ACT would take place for the Junior class around March. The test is a standardized test that is made up of five parts: math, science, reading, english, and one optional part: writing. The test length is 2 hours and 55 minutes but could last 3 hours and 35 minutes if you do choose to add the writing section. The test is used in college admission. The highest score you can get on the test is a 36 and the average score is a 21.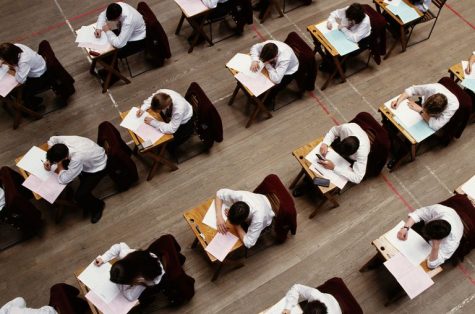 The math section is 60 minutes long made up with 60 questions, the science section is 35 minutes long made up with 40 questions, the reading section is 35 minutes long made up with 40 questions, the english section is 45 minutes made up with 75 questions, and if you take the writing section it is 40 minutes and you will be writing one response to a prompt. This test is similar to the KPREP test that everyone took in elementary school. Each section is monitored with a start and a finish time. You cannot start before the test administrator allows and once time is up, you cannot go back to that section or the test will be taken and you will receive a zero.
The night before the test make sure to go to bed early so you are well rested, take it from someone who was dozing off during the reading section. You should also make sure to eat a big full breakfast and get to school early so that you're not rushing to your testing location. If you want you can bring snacks and water. Some schools do supply their students with one snack but it is highly suggested that you bring your own. Though you do bring your own snacks, the only time you can eat it is during the breaks.
At the start of the test the testing administrator will give you a chance to completely turn off your phone to put it and any other electrical device you have with you away. The only thing you can have is a digital wrist watch. If you choose to ignore this chance to turn it off  and keep your phone on and if it goes off then your test will be took and thrown away. During the testing periods the only thing you can have on your desk is the test itself and a pencil, but during the math section you can have your calculator on the desk too if it is the calculator permitted part.
When taking the test, it is important that you use your time wisely. Teachers will be able to tell you to do your best and to take your time. Teachers also suggest that you answer every question even if you are not sure of an answer. You should answer the ones you know then go back and answer the ones you were unsure about.
There are many ways to prepare yourself for the test. You can order books or possibly get them from a friend that has already taken it. There are also sites online that you can take practice tests. Many schools offer ACT instruction. Fern Creek offers ACT bootcamp in addition to the practice in junior classes. Your teachers will go over as much as they can with you before the day. If you're taking the test anytime soon I hope this information helps and i wish you all good luck!
The upcoming dates for the ACT is listed at act.org where you can also register. When you take the test your junior year at school it is free. If you take the ACT on your own there is a possibility you will have to pay for it on your own. You can apply for a waiver to get the fees waived. The full ACT without writing is $55 and the full Act test with writing is $70.
Free Practice Test: